Wild South America: The Guianas to Brazil
on National Geographic Explorer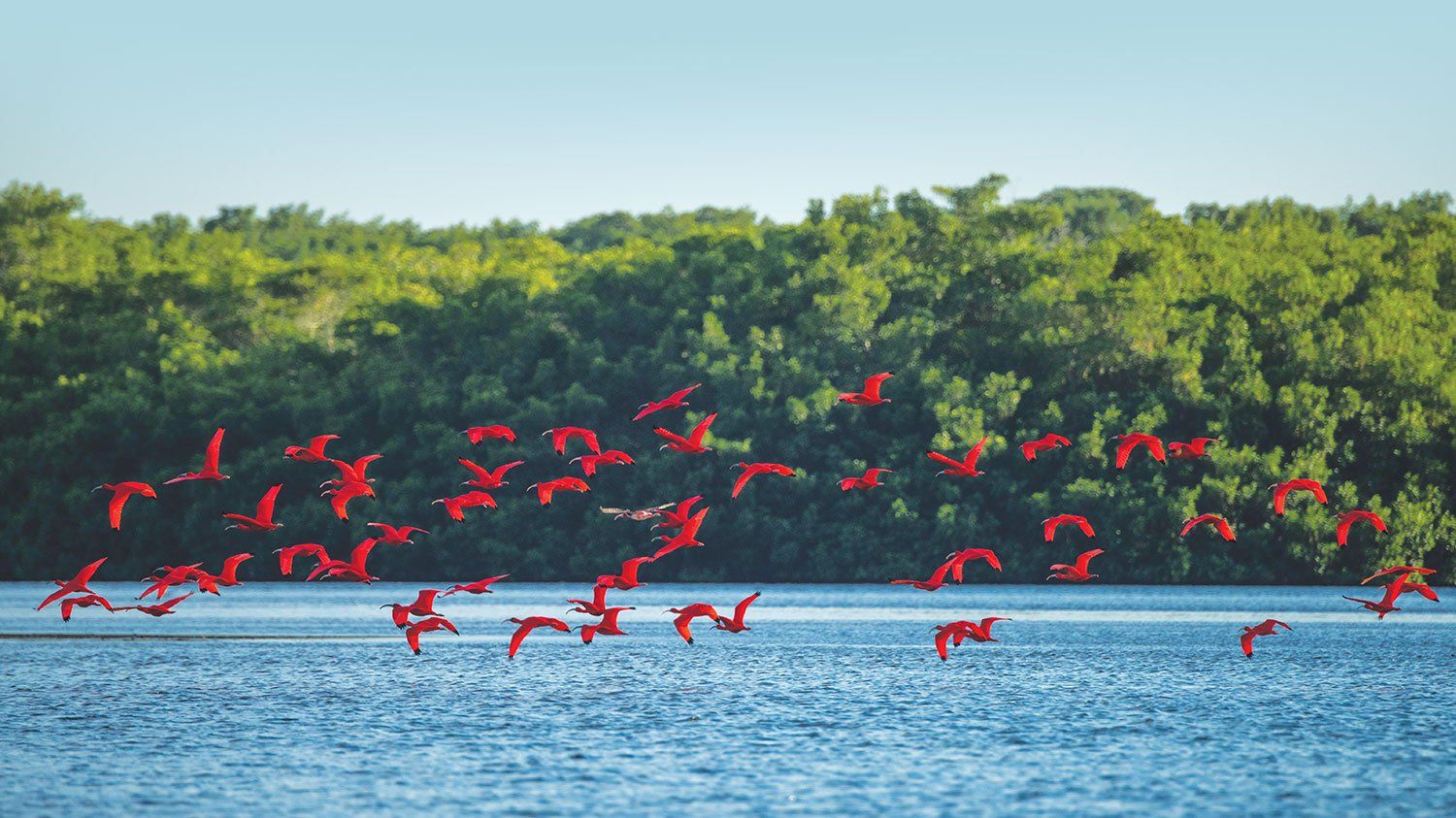 Wild South America: The Guianas to Brazil
Legendary wildness and special access to seldom-visited regions
Extraordinary diversity and a dazzling array of points of interest await on this exploration through five countries, two legendary rivers, and a host of places few people ever see. Experience fascinating ecosystems from riverine to jungle to urban, within dramatic natural settings. Spot tropical wildlife from spinner dolphins to the spectacle of hundreds of scarlet ibis coming home to roost. Have the rare opportunity to explore pristine Fernando de Noronha, a UNESCO Site; grand Kaieteur Falls, two times the height of Victoria Falls; and well-preserved colonial towns with a dramatic history.
Expedition Highlights
Spot tropical wildlife as we explore two legendary jungle rivers: the Amazon and the Essequibo.
Birders will have their minds blown at Trinidad's renowned Asa Wright Nature Center, spotting many colorful specimens from the veranda viewing gallery.
Explore three picturesque colonial cities from Paramaribo, Suriname, a UNESCO Site, to Belém, the gateway to the Amazon, and Salvador, Brazil's cultural heart. And visit notorious Devil's Island.
Discover the rhythms of South America with live performances by leading musicians—curated by onboard ethnomusicologist Jacob Edgar.
Enjoy special access to the unspoiled islands of Fernando de Noronha, a World Heritage Site. Snorkel amid the rich marine life and see the rich population of spinner dolphins.
About National Geographic Explorer
About Lindblad Expeditions

Going where awesome is for 50 years
Lindblad Expeditions goes to the most amazing places on the planet—40+ geographies in all. And they've planted a flag in many of them, deeply committing to remote wild places—like South Georgia and the Falklands; Patagonia, where they opened up Staten Island, 'the island at the end of the world,' for eco-tourism; and remote and beautiful regions of Polynesia, including the Marquesas Islands where few go.
Teams that do whatever it take
...
Main Deck With One Or Two Portholes
Main Deck With One Or Two Portholes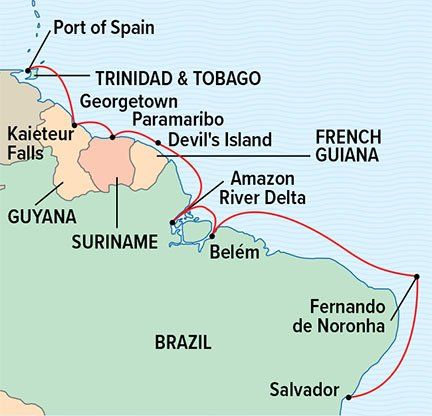 Day
Destination
1
U.S. / Trinidad & Tobago
2-3
Asa Wright Nature Center / Caroni Swamp / Port of Spain / Embark
4
At Sea
5-7
Essequibo River, Guyana/Georgetown/At Sea
8
Paramaribo, Suriname
9-10
Devil's Island, French Guiana/At Sea
11-13
Amazon River Delta, Brazil
14
Belém
15-17
At Sea
18-20
Fernando de Noronha
21-22
At Sea/Salvador
23-24
Salvador/ Disembark/U.S.